Workflow Entry: Run XMPP cloud services.
Created at: 25/04/09 @ 19:10:52 Last updated: 22/03/10 @ 15:01:30
Version 2 (latest)

(of 2)
Version created on: 25/04/09 @ 19:10:52 by: Egon Willighagen | Revision comment
Last edited on: 22/03/10 @ 15:01:31 by: Egon Willighagen
Title: Run XMPP cloud services.
Type: Taverna 2
Preview
(Click on the image to get the full size)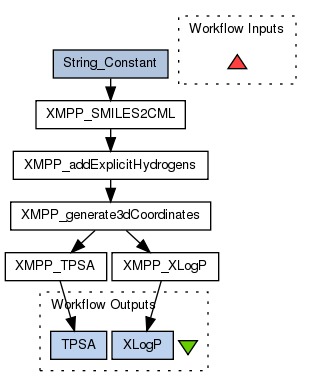 Description
Basic workflow indicating how a XMPP service can be called with XML input and output.
Source code for the activity is available from: github.com/egonw/xws-taverna/tree/master That page explains you how to install the plugin you must install on top of Taverna 2.0. The workflow will not work otherwise.
Download
Run
Run this Workflow in the Taverna Workbench...
Option 1:
Copy and paste this link into File > 'Open workflow location...'
http://www.myexperiment.org/workflows/631/download?version=2
[ More Info
]
Workflow Components

Authors (0)

Titles (0)

Descriptions (0)

Dependencies (0)

Workflow Type

Original Uploader

Credits (1)
(People/Groups)

Attributions (0)
(Workflows/Files)
None

Tags (2)
Log in to add Tags

Shared with Groups (0)
None

Featured In Packs (0)
None
Log in to add to one of your Packs

Ratings (1)
Current:
3.0 / 5
(1 rating)
Log in to rate and see breakdown of ratings

Statistics

Other workflows that use similar services
(0)
There are no workflows in myExperiment that use similar services to this Workflow.
Linked Data
Non-Information Resource URI: http://www.myexperiment.org/workflows/631/versions/2
Alternative Formats