Automated Cortical Surface Extraction Workflow
Created: 2011-04-06 00:44:05 Last updated: 2011-07-14 00:20:57
This workflow takes raw un-skull-stripped volumes and generates a cortical surface model using <font>FreeSurfer</font>? and CCB tools.
Problem addressed by this workflow
There are many ways to generate cortical surface models based on MRI data. Here is one of them. Eventually, there will be a new Learning-based Cortical Surface Modeling Pipeline, as well.
Detailed Workflow Usage & Specifications
Input: Any volumetric file format can be used for the raw unskull-stripped input images (e.g., DICOM, Directories, Analyze, MNC, Nifti, etc.)
Auto Surface extraction

FreeSurfer's reconall is used to generate the first estimate of the L/R cortical surfaces
SIG-SHAPE's cortical surface processing (topological correction) is applied on the surfaces

Tissue Label Processing
URL: http://www.loni.ucla.edu/twiki/bin/view/CCB/PipelineWorkflows_CorticalSurfaceExtraction
Preview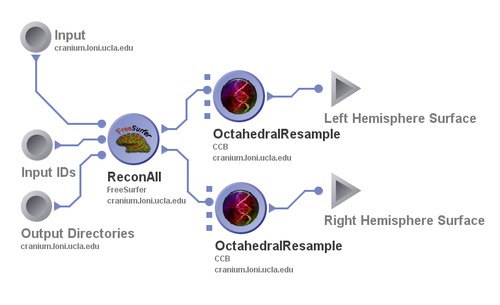 Run
Not available
Workflow Components
Not available

Workflow Type

Uploader

Version 1 (of 1)

Credits (1)
(People/Groups)

Attributions (0)
(Workflows/Files)
None

Tags (8)
Log in to add Tags

Shared with Groups (0)
None

Featured In Packs (0)
None
Log in to add to one of your Packs

Statistics

Other workflows that use similar services
(0)
There are no workflows in myExperiment that use similar services to this Workflow.