First Level within subject fMRI processing
Created: 2011-04-06 01:41:51 Last updated: 2011-07-14 00:33:54
Overview - fMRI-FEAT workflow
This is a simple with-in subject fMRI analysis workflow. It takes 3D fMRI images and structural images of a subject and performs FSLmerge, BET (if the data is not already skull stripped) and first level FEAT processing.
Problem addressed by this workflow
FSLMerge, BET and FEAT first level analysis can be performed using this workflow on one or more subjects that require the same processing. The design FSF file is generate using the FSL FEAT interface for one subject and can be used as a template for processing other subjects.
Detailed Workflow Usage & Specifications
Inputs: 3D/4D fMRI image, skullstripped/non-skullstripped image, Number of TR, Experimental variable timing files, MNI Atlas and the FSL FSF design template file are the inputs to the workflow. Multiple subjects can be processed at the same time using this workflow. To do this 4D fMRI images should be input instead of 3D fMRI files. FSF Update: This module can be used to update a design FSF file. A template file can be input to this module. fMRI files and the respective structural images can be updated for different subjects using this module. The output directory is also specified in this module. FSL FEAT: Performs the first level with in subject analysis. An updated FSF design file is input to the module and the output is the Feat dir with all the first level statistics and also registered images.
URL: http://www.loni.ucla.edu/twiki/bin/view/CCB/PipelineWorkflows_fMRIFEAT
Preview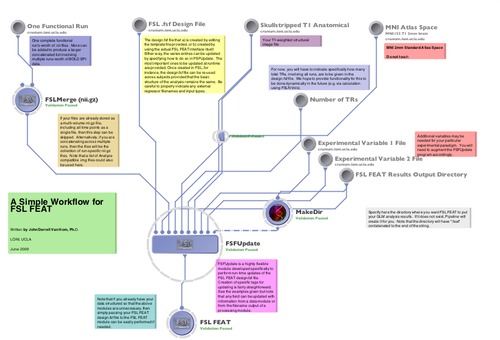 Run
Not available
Workflow Components
Not available

Workflow Type

Uploader

Version 1 (of 1)

Credits (1)
(People/Groups)

Attributions (0)
(Workflows/Files)
None

Tags (6)
Log in to add Tags

Shared with Groups (0)
None

Featured In Packs (0)
None
Log in to add to one of your Packs

Statistics

Other workflows that use similar services
(0)
There are no workflows in myExperiment that use similar services to this Workflow.