Complex Addition Part 2
Created: 2011-09-27 18:23:38 Last updated: 2011-09-27 18:23:40
This workflow provides a way to do more complex addition/subtraction (and mutliplication/division) operations in Kepler. All of the input values are completely customizable. This is the second of two workflows (the extra credit).
Based on the workflow 01-SimpleAddition.kar by Matt Jones (NCEAS) in May 2006. The workflow is packaged with Kepler.
Preview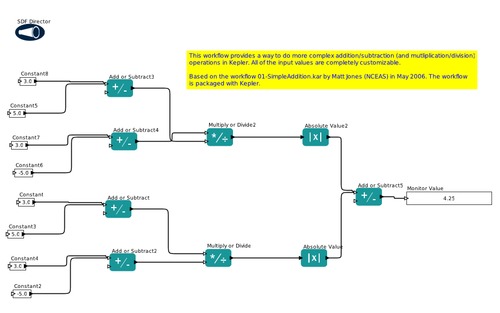 Run
Running Kepler workflows is currently unsupported.
Workflow Components
Reading Kepler workflow internals is currently unsupported.

Workflow Type

Uploader

Version 1 (of 1)

Credits (1)
(People/Groups)

Attributions (1)
(Workflows/Files)

Tags (3)
Log in to add Tags

Shared with Groups (1)

Featured In Packs (0)
None
Log in to add to one of your Packs

Statistics

Other workflows that use similar services
(0)
There are no workflows in myExperiment that use similar services to this Workflow.