Hello Hipster World
Created: 2011-09-28 14:50:25
This workflow takes 5 constants and outputs five lines of text. In this example, the constant boxes are filled with meaningless text copied and pasted from http://hipsteripsum.me.
This workflow is a modification to the "04-HelloWorld.xml" example file that comes with Kepler.
Preview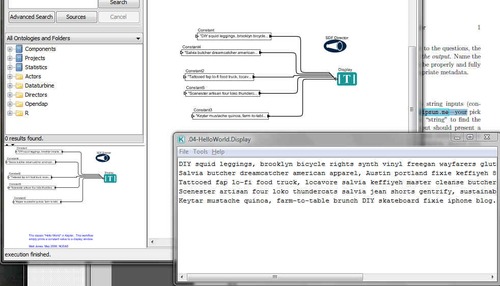 Run
Running Kepler workflows is currently unsupported.
Workflow Components
Reading Kepler workflow internals is currently unsupported.

Workflow Type

Uploader

Version 1 (of 1)

Tags (0)
Log in to add Tags

Shared with Groups (1)

Featured In Packs (0)
None
Log in to add to one of your Packs

Attributed By (1)
(Workflows/Files)

Statistics

Other workflows that use similar services
(0)
There are no workflows in myExperiment that use similar services to this Workflow.