Renaissance texts parameters
Created: 2012-01-11 10:38:14 Last updated: 2012-01-11 10:38:15
Calculation of some basic parameters of renaissance texts written in different languages.
Parameters: type count, token count, type token ratio, wordlength, entropy, conditional entropy, coincidence values, random walk values, repeated words and minimal pairs.
Texts (from project Guttenberg, referenced in http://www.myexperiment.org/files/660.html): Dee (en), dante (it), descartes (lat), ceasar (anc lat), paracelsus (ger), melanchton (ger)
Preview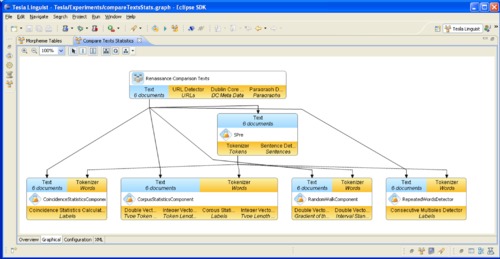 Run
Not available
Workflow Components
Not available

Workflow Type

Uploader

Version 1 (of 1)

Credits (1)
(People/Groups)

Attributions (0)
(Workflows/Files)
None

Tags (4)
Log in to add Tags

Shared with Groups (0)
None

Featured In Packs (1)
Log in to add to one of your Packs

Statistics

Other workflows that use similar services
(0)
There are no workflows in myExperiment that use similar services to this Workflow.