Temporal Expression Extraction
Created: 2012-05-22 14:50:45 Last updated: 2012-05-22 16:49:00
This experiment evaluates a method of extracting temporal expressions from documents. It uses the WikiWars-corpus, a time-annotated corpus of descriptions of the course of wars and conflicts.
An evaluation component compares the experimently identified expressions with the pre-annotated expressions of the corpus and calculates precision, recall and f-score.
Preview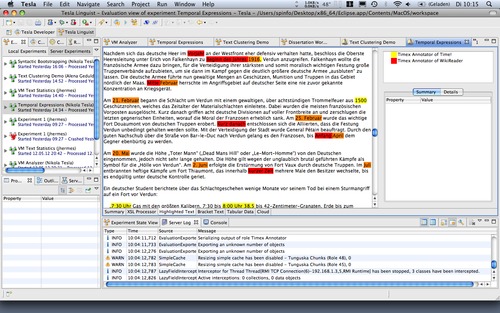 Run
Not available
Workflow Components
Not available

Workflow Type

Uploader

Version 1 (of 1)

Credits (1)
(People/Groups)

Attributions (0)
(Workflows/Files)
None

Tags (2)
Log in to add Tags

Shared with Groups (0)
None

Featured In Packs (0)
None
Log in to add to one of your Packs

Statistics
By

Title: Fine workflow example

Rating: 5 out of 5

Created: 2012-05-22 16:49:00 | Updated: 2012-05-22 16:49:00

A nice example experiment demonstrating evaluation and visualisation potentials of Tesla. Thanks for sharing!

[ more ]

View

Other workflows that use similar services
(0)
There are no workflows in myExperiment that use similar services to this Workflow.