Metabolic differences in ripening of Solanum lycopersicum 'Ailsa Craig' and three monogenic mutants
Created: 2013-10-16 14:14:09 Last updated: 2014-07-04 15:05:52
Updated data processing workflow for metabolomics LC-MS/MS data. This workflow depends on the stable community plug-in MassCascade and KNIME plug-ins Base Chemistry, Chemistry Types & Nodes, Math Expression, and XLS Support. The workflow was run under KNIME version 2.9.2.
Preview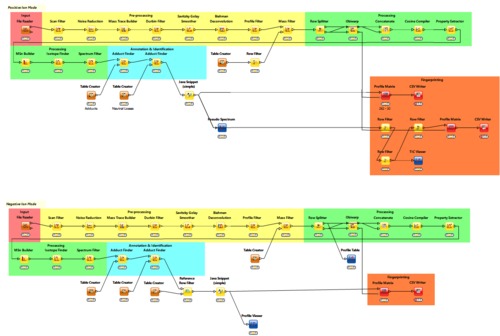 Run
Not available
Workflow Components
Not available

Workflow Type

Uploader

Version 2 (latest) (of 2)

Credits (1)
(People/Groups)

Attributions (0)
(Workflows/Files)
None

Tags (4)
Log in to add Tags

Shared with Groups (0)
None

Featured In Packs (0)
None
Log in to add to one of your Packs

Statistics

Other workflows that use similar services
(0)
There are no workflows in myExperiment that use similar services to this Workflow.