KNIME workflow without hERG labels included from Zdrazil et al., MedChemComm, 2016: "From linked open data to molecular interaction: studying selectivity trends for ligands of the human serotonin and dopamine transporter"
Created: 2016-07-20 07:24:07 Last updated: 2016-07-20 07:28:17
KNIME workflow used to retrieve and process data from Open PHACTS for three targets of interest (hSERT, hDAT, hERG). Further, Murcko scaffolds are computed and selectivity trends towards hSERT and hDAT can be studied. Cutt off's for separating actives/inactives are tailored to the specific target and endpoint.
Requirements:
- Knime v2.11
- Open PHACTS Knime nodes version 1.1.0: https://github.com/openphacts/OPS-Knime
- KNIME additional community nodes: 'Trusted Community Contributions (2.11)': EMBL-EBI Nodes for KNIME; KNIME-CDK; RDKit KNIME integration
Installation:
- Download 'org.openphacts.utils.json_1.1.0.zip' into the plugins folder of your KNIME Installation. Rename .zip to .jar
- Download the workflow (zip file)
- Start your KNIME environment
- Import workflow
Preview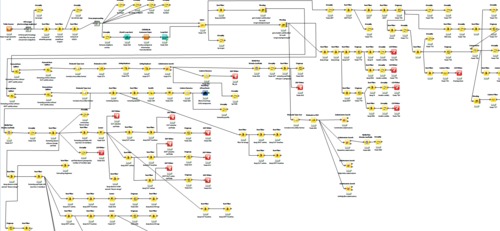 Run
Not available
Workflow Components
Not available

Workflow Type

Uploader

Version 1 (of 1)

Credits (2)
(People/Groups)

Attributions (0)
(Workflows/Files)
None

Tags (3)
Log in to add Tags

Shared with Groups (0)
None

Featured In Packs (1)
Log in to add to one of your Packs

Statistics

Other workflows that use similar services
(0)
There are no workflows in myExperiment that use similar services to this Workflow.