RetroPath2.0-Mods-isomer-transformation-queue
Created: 2017-10-12 13:23:02 Last updated: 2017-10-12 13:26:23
The workflow allows one to enumerate isomers of chemical structure(s) using the isomer transformation algorithm. It is a modified version of "RetroPath2.0-Mods-isomer-transformation". It illustrates how to introduce a FIFO data structure for the source set and use it for iteratively firing rules on small chunks of structures. See [1] for details.
How to use
See instructions embedded in the workflow.
Usage specifications
The workflow is compatible starting from version 3.4.1 of Knime Analytics Platform.
Licence
This work is licensed under the Creative Commons Attribution-NonCommercial-ShareAlike 4.0 International License. To view a copy of this license, visit http://creativecommons.org/licenses/by-nc-sa/4.0/.
[1] M. Koch, T. Duigou, P. Carbonell, J.-L. Faulon, Molecular structures enumeration and virtual screening in the chemical space with RetroPath2.0. bioRxiv, 2017.
Koch, T. Duigou, P. Carbonell & J.-L. Faulon, 22/06/2017
Please report bugs to thomas.duigou@inra.fr
Preview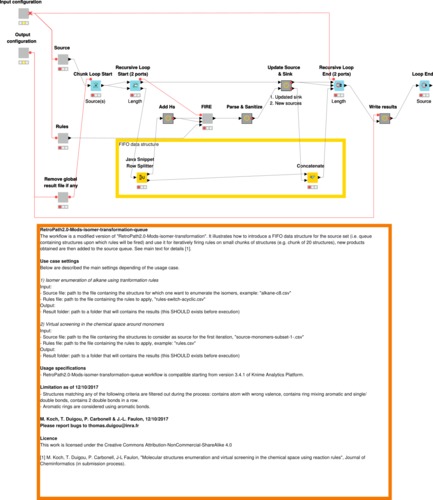 Run
Not available
Workflow Components
Not available

Workflow Type

Uploader

Version 1 (of 1)

Credits (2)
(People/Groups)

Attributions (2)
(Workflows/Files)

Tags (8)
Log in to add Tags

Shared with Groups (1)

Featured In Packs (1)
Log in to add to one of your Packs

Statistics

Other workflows that use similar services
(0)
There are no workflows in myExperiment that use similar services to this Workflow.