Integrative data mining of chemical compounds from public domain
Created: 2018-12-10 14:02:46 Last updated: 2018-12-10 14:04:27
This workflow downloads ligand data for hepatic Organic Anion Transporting Polypeptides (OATPs) from five different open sources (CHEMBL, Metrabase, USFC-FDA Transportal, IUPHAR, and Drugbank) in an semi-automatized fashion. This workflow can be adopted to any other ligand data showing an (in)activity against membrane transporter. If missing, structural file format is mapped via PubChem webservices. Pre-curated compounds are subjected to standardization procedure (Atkinson standardization script has been used, for further details see https://wwwdev.ebi.ac.uk/chembl/extra/francis/standardiser/). Further, activity threshold is set up based on pre-selected cutoff, and data are combined and grouped by in order to reveal their pharmacological profiles across hepatic OATPs. An emphasis has been put to treat OATP substrates and inhibitors separately based on different activity end-points and/or annotations for substrates (Km, EC50, 'substrate' annotation) versus inhibitors (Ki, IC50, [%] inhibition values, 'inhibitor' annotation).
Preview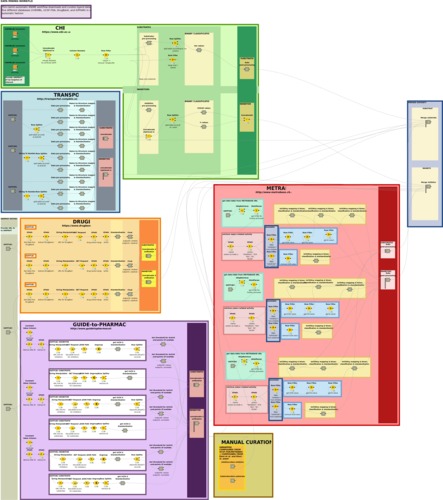 Run
Not available
Workflow Components
Not available

Workflow Type

Uploader

Version 1 (of 1)

Credits (1)
(People/Groups)

Attributions (0)
(Workflows/Files)
None

Tags (3)
Log in to add Tags

Shared with Groups (0)
None

Featured In Packs (0)
None
Log in to add to one of your Packs

Statistics

Other workflows that use similar services
(0)
There are no workflows in myExperiment that use similar services to this Workflow.