Liliopsida Protein Alignment
Created: 2010-01-13 18:42:35 Last updated: 2010-11-17 13:46:04
Download this Workflow and import into BioExtract Server at bioextract.org
This workflow retrieves Liliopsida chloroplast petb gene sequences from NCBI Nucleotide, removes duplicate sequences and saves the results at BioExtract Server. These results are then converted into GenBank format and fed into Fetch Translation, which removes the translation from the CDS coding region. Translations are then used to build a multiple alignment using ClustalW.
Preview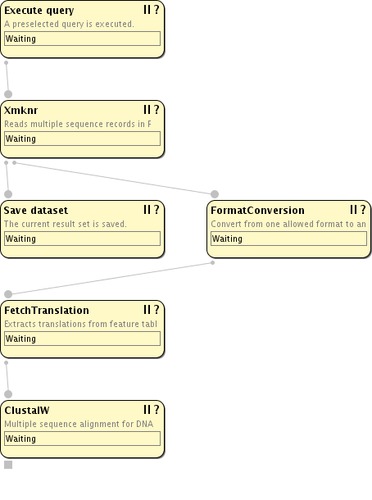 Run
There was a problem when determining the run options of this workflow.
Workflow Components

Workflow Type

Uploader

Version 3 (of 6)

Credits (1)
(People/Groups)

Attributions (0)
(Workflows/Files)
None

Tags (5)
Log in to add Tags

Shared with Groups (0)
None

Featured In Packs (0)
None
Log in to add to one of your Packs

Statistics
Citations (1)
1. Lushbough CM, Bergman M.K, Lawrence C J, Jennewein D, Brendel V, BioExtract Server - An Integrated Workflow-Enabling System to Access and Analyze Heterogeneous, Distributed Biomolecular Data, IEEE/ACM Transactions on Computational Biology and Bioinformatics, 11 September 2008, http://doi.ieeecomputersociety.org/10.1109/TCBB.2008.98, Accessed at: 28 October 2008

Other workflows that use similar services
(0)
There are no workflows in myExperiment that use similar services to this Workflow.