Basic eSearch/eFetch cycle
Created: 2008-12-04 22:47:43 Last updated: 2008-12-04 22:51:42
This is a basic eSearch/eFetch workflow created with taverna and using eUtils from NCBI.
It accepts a query term as input (at the moment, for testing purposes, this is a fixed string), interrogate eSearch to retrieve the list of related sequences on the Nucleotide database, and use eFetch to retrieve the corresponding sequences.
I wrote this workflow one year ago, when I was trying to understand how taverna and eUtils work; I suspect it broken, and of course it could be enhanced, so I am putting it here and you are free to copy and modify it, and any suggestion is highly appreciated.
I believe this is a good workflow to study if you want to understand how the eUtils and their mechanism of WebEnv and QueryKey work.
I also putted it on my github repository: http://github.com/dalloliogm/taverna_workflows/tree/master/eUtils
Preview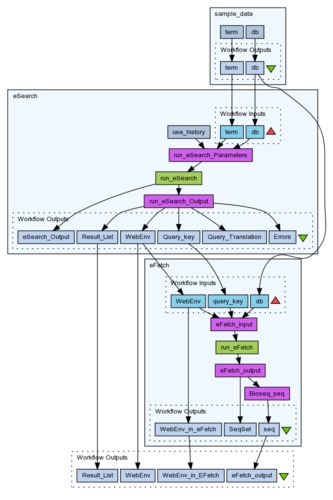 Run
Run this Workflow in the Taverna Workbench...
Option 1:
Copy and paste this link into File > 'Open workflow location...'
https://www.myexperiment.org/workflows/592/download?version=1
[ More Info

]
Workflow Components

Workflow Type

Uploader

Version 1 (of 1)

Credits (1)
(People/Groups)

Attributions (0)
(Workflows/Files)
None

Tags (6)
Log in to add Tags

Shared with Groups (0)
None

Featured In Packs (0)
None
Log in to add to one of your Packs

Statistics

Other workflows that use similar services
(30)
Only the first 2 workflows that use similar services are shown. View all workflows that use these services.

Perform a search through NCBI eUtils eSearch (3)

This workflow takes in a search term and a database (e.g. snp, gene, protein) in which to perfom the search over. The result is an xml file containing summary information about the search term. Example input for this workflow are given below: database: pubmed terms: cancer AND diabetes
Created: 2009-11-27 | Last updated: 2009-12-03

Escherichia coli : From cDNA Microarray Ra... (1)

This workflow takes in a CDNA raw file and a normalisation method then returns a series of images/graphs which represent the same output obtained using the R and bioconductor. Also retruned by this workflow are a list of the top differentialy expressed genes (size dependant on the number specified as input - geneNumber), which are then used to find the candidate pathways which may be influencing the observed changes in the microarray data. By identifying the candidate pathways, more detailed...
Created: 2008-05-08 | Last updated: 2008-05-12
Credits:

Saeedeh

Paul Fisher
Attributions:

HUMAN Microarray CEL file to candidate pathways