Initialize triplestore with Murin's protocol ontology
Created: 2009-02-17 04:40:17 Last updated: 2009-02-17 04:42:28
This workflow initialize the Sesame triplestore with initial data. The 5 rdfiser in JSP are needed, they are executed on localhost.
Preview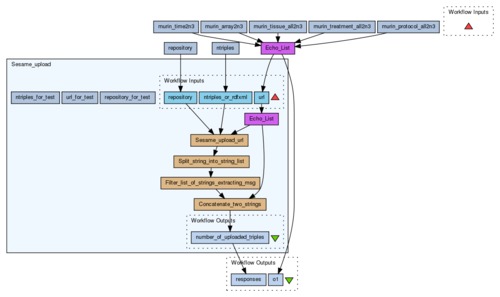 Run
Run this Workflow in the Taverna Workbench...
Option 1:
Copy and paste this link into File > 'Open workflow location...'
https://www.myexperiment.org/workflows/650/download?version=1
[ More Info

]
Workflow Components

Authors (0)

Titles (0)

Descriptions (0)

Dependencies (0)

Workflow Type

Uploader

Version 1 (of 1)

Credits (1)
(People/Groups)

Attributions (0)
(Workflows/Files)
None

Tags (4)
Log in to add Tags

Shared with Groups (0)
None

Featured In Packs (0)
None
Log in to add to one of your Packs

Statistics

Other workflows that use similar services
(0)
There are no workflows in myExperiment that use similar services to this Workflow.