An example workflow with WSRF service
Created: 2009-07-28 17:24:05
An example workflow with WSRF service
The service used is http://sidgrid.ci.uchicago.edu:8100/wsrf/services/CounterService
The service is included in Globus toolkit installation (ws-core). If the it is down you can host your own and modify the workflow definition file to point to your own.
The workflow first creates a counter instance and adds the value 10 for two times to the same counter. Therefore the result should be 20.
Preview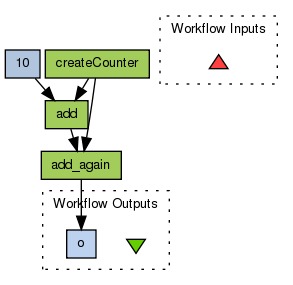 Run
Run this Workflow in the Taverna Workbench...
Option 1:
Copy and paste this link into File > 'Open workflow location...'
http://www.myexperiment.org/workflows/845/download?version=1
[ More Info

]
Workflow Components

Authors (0)

Titles (0)

Descriptions (0)

Dependencies (0)

Workflow Type

Uploader

Version 1 (of 1)

Credits (2)
(People/Groups)

Attributions (0)
(Workflows/Files)
None

Tags (5)
Log in to add Tags

Shared with Groups (0)
None

Featured In Packs (0)
None
Log in to add to one of your Packs

Statistics

Other workflows that use similar services
(0)
There are no workflows in myExperiment that use similar services to this Workflow.