Workflow Entry: Find and replace missing values with other attribute values
Created at: 25/08/10 @ 08:49:03 Last updated: 25/08/10 @ 13:41:41
Version 1

(of 1)
Title: Find and replace missing values with other attribute values
Type: RapidMiner
Preview
(Click on the image to get the full size)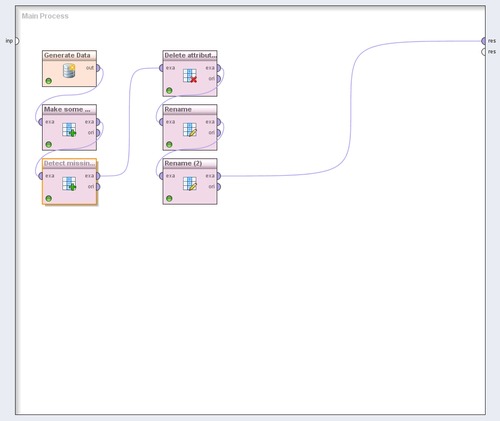 Description
Sometimes, it is helpful to replace a numerical attribute containing a missing value with a value from another attribute in the example row rather than using a constant such as an average or maximum value. This process generates some missing values, detects them and replaces with a calculation based on the value of another attribute. (Purists will be alarmed at the mathematical impossibility of taking the square root of a negative number).
The process detects missing values by subtracting an attribute value from itself. If the value is missing, the result of this will be non zero whereas if the value is not missing, the result will be zero. This can be used to generate a new attribute.
Download
Run
Not available
Workflow Components

Workflow Type

Original Uploader

Tags (0)
Log in to add Tags

Shared with Groups (0)
None

Featured In Packs (0)
None
Log in to add to one of your Packs

Ratings (0)
Current:
0.0 / 5
(0 ratings)
Log in to rate and see breakdown of ratings

Statistics

Other workflows that use similar services
(0)
There are no workflows in myExperiment that use similar services to this Workflow.
Linked Data
Non-Information Resource URI: http://www.myexperiment.org/workflows/1487
Alternative Formats