Workflow Entry: MythMiner - Recommendation system for MythTV using RapidMiner
Created at: 30/01/11 @ 13:34:42
Version 1

(of 1)
Version created on: 30/01/11 @ 13:34:41 by: Balazsb
Title: MythMiner - Recommendation system for MythTV using RapidMiner
Type: RapidMiner
Preview
(Click on the image to get the full size)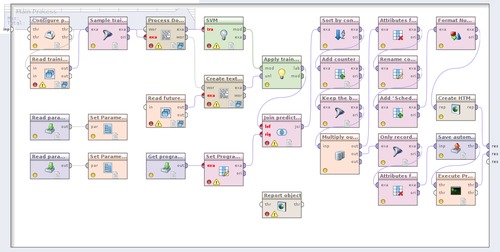 Description
This process creates recommendations from the MythTV PVR database. Programs which have been recorded are assumed to be interesting, those not recorded to be not interesting. The model is then applied to future program data. Interesting programs are saved in an HTML file which can be mailed to the user.
This process has a few dependencies, please note homepage:
Download
Run
Not available
Workflow Components

Workflow Type

Original Uploader

License

Tags (0)
Log in to add Tags

Shared with Groups (0)
None

Featured In Packs (0)
None
Log in to add to one of your Packs

Ratings (0)
Current:
0.0 / 5
(0 ratings)
Log in to rate and see breakdown of ratings

Statistics

Other workflows that use similar services
(0)
There are no workflows in myExperiment that use similar services to this Workflow.
Linked Data
Non-Information Resource URI: http://www.myexperiment.org/workflows/1796
Alternative Formats