Use Case B, KNIME workflow
Created: 2014-11-20 13:45:47 Last updated: 2015-11-03 09:43:17
Workflow used to obtain data for the research paper 'The application of the Open Pharmacological Concepts Triple Store (Open PHACTS) to support Drug Discovery Research', PLoS One. 2014 Dec 18; 9(12):e115460. PMID: 25522365; authored by Joseline Ratnam, Barbara Zdrazil, Daniela Digles, Cuadrado-Rodriguez E, et al.

This workflow can be used to retrieve data and perform the analysis described in use case B
Requirements:
- Knime v2.9
- Open PHACTS Knime nodes version 1.0.0 (DON'T use any later version!): https://github.com/openphacts/OPS-Knime
Installation:
- Download "org.openphacts.utils.json_1.0.0.zip" and unzip it in the plugins folder of your KNIME installation
- Download the workflow (zip file)
- Start your KNIME environment
- Import workflow
Preview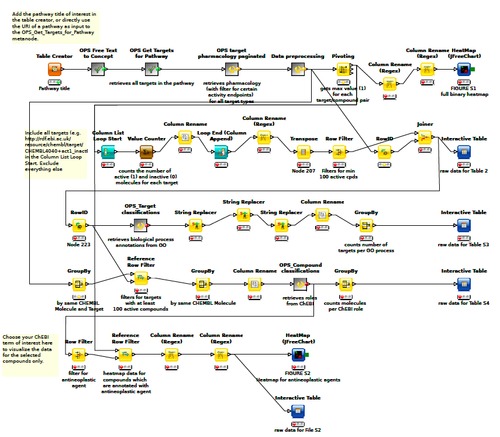 Run
Not available
Workflow Components
Not available

Workflow Type

Uploader

Version 1 (of 1)

Credits (5)
(People/Groups)

Attributions (0)
(Workflows/Files)
None

Tags (4)
Log in to add Tags

Shared with Groups (0)
None

Featured In Packs (0)
None
Log in to add to one of your Packs

Statistics

Other workflows that use similar services
(0)
There are no workflows in myExperiment that use similar services to this Workflow.