RetroPath2.0-Mods-isomer-augmentation
Created: 2017-06-30 16:43:19 Last updated: 2017-12-19 15:28:01
The workflow allows one to enumerate isomers using the isomer augmentation algorithm. See [1] for details.
How to use
See instructions embedded in the workflow.
Usage specifications
The workflow is compatible starting from version 3.3.2 of Knime Analytics Platform.
Licence: CC BY-NC-SA
This work is licensed under the Creative Commons Attribution-NonCommercial-ShareAlike 4.0 International License. To view a copy of this license, visit http://creativecommons.org/licenses/by-nc-sa/4.0/.
Koch M, Duigou T, Carbonell P & Faulon JL, 22/06/2017
[1] Koch M, Duigou T, Carbonell P, Faulon JL. Molecular structures enumeration and virtual screening in the chemical space with RetroPath2.0. Journal of Cheminformatics, 9:64, 2017. https://doi.org/10.1186/s13321-017-0252-9
Please report bugs to thomas.duigou@inra.fr
Preview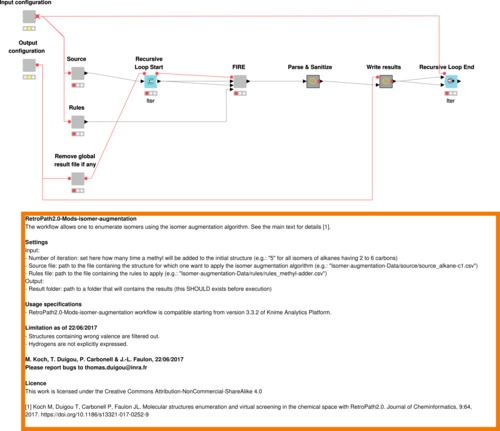 Run
Not available
Workflow Components
Not available

Workflow Type

Uploader

Version 2 (latest) (of 2)

Credits (2)
(People/Groups)

Attributions (1)
(Workflows/Files)

Tags (7)
Log in to add Tags

Shared with Groups (1)

Featured In Packs (1)
Log in to add to one of your Packs

Attributed By (1)
(Workflows/Files)

Statistics

Other workflows that use similar services
(0)
There are no workflows in myExperiment that use similar services to this Workflow.