Using CQL to query protein sequence data
Created: 2009-05-07 14:28:59
Preview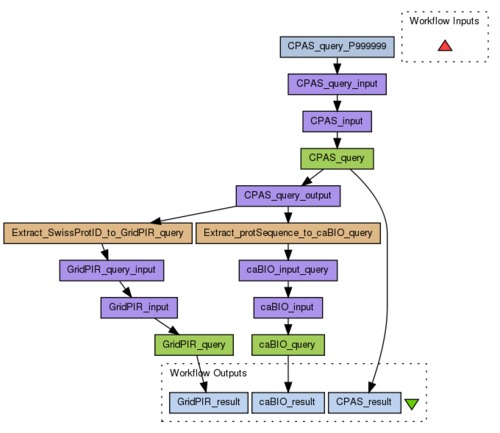 Run
Run this Workflow in the Taverna Workbench...
Option 1:
Copy and paste this link into File > 'Open workflow location...'
http://www.myexperiment.org/workflows/752/download?version=1
[ More Info
]
Run this Workflow on the cloud with OnlineHPC...
Click the link below to visit OnlineHPC
http://onlinehpc.com/workflows/editor?provider=myexperiment&workflowId=752
[ More Info
]
Workflow Components

Authors (2)

Titles (2)

Descriptions (4)

Dependencies (0)

Workflow Type

Uploader

Version 1 (of 1)

Credits (1)
(People/Groups)

Attributions (1)
(Workflows/Files)
[ edit ]

Tags (10)
Log in to add Tags

Shared with Groups (0)
None

Featured In Packs (0)
None
Log in to add to one of your Packs

Statistics

Other workflows that use similar services
(1)

Using CQL to query protein sequence data (1)
To query protein sequence infomation out of 3 caGrid data services: caBIO, CPAS and GridPIR. Scientific value To query protein sequence information out of 3 caGrid data services: caBIO, CPAS and GridPIR. To analyze a protein sequence from different data sources. Steps Querying CPAS and get the id, name, value of the sequence. Querying caBIO and GridPIR using the id or name obtained from CPAS.
Created: 2008-12-05 | Last updated: 2009-07-14
Credits:

Wei Tan