EMBOSS-Matcher Pipeline Workflow
Created: 2011-04-05 21:34:49 Last updated: 2011-07-14 01:52:02
This page contains a number of bioinformatics workflows based on the advanced EMBOSS informatics package. This page describes as Pipeline modules several bioinformatics tools from the EMBOSS suite and demonstrates the construction of a couple of integrated pipeline workflows (end-to-end bioinformatics solutions via the LONI Pipeline).
Matcher finds the best local alignments between two sequences. It can be used to compare two sequences looking for local sequence similarities using a rigorous algorithm. Matcher is based on Bill Pearson's 'lalign' application.
URL: http://www.loni.ucla.edu/twiki/bin/view/CCB/PipelineWorkflows_BioinfoEMBOSS
Preview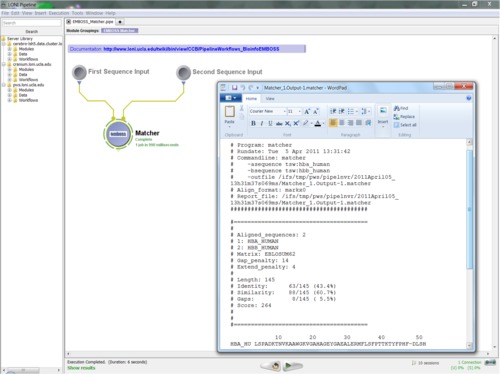 Run
Not available
Workflow Components
Not available

Workflow Type

Uploader

Version 1 (of 1)

Credits (1)
(People/Groups)

Attributions (0)
(Workflows/Files)
None

Tags (3)
Log in to add Tags

Shared with Groups (0)
None

Featured In Packs (0)
None
Log in to add to one of your Packs

Statistics

Other workflows that use similar services
(0)
There are no workflows in myExperiment that use similar services to this Workflow.