Workflow Entry: EBI_blastpgp_PSI-BLAST
Created at: 31/05/08 @ 14:39:22
Version 1

(of 1)
Title: EBI_blastpgp_PSI-BLAST
Type: Taverna 1
Preview
(Click on the image to get the full size)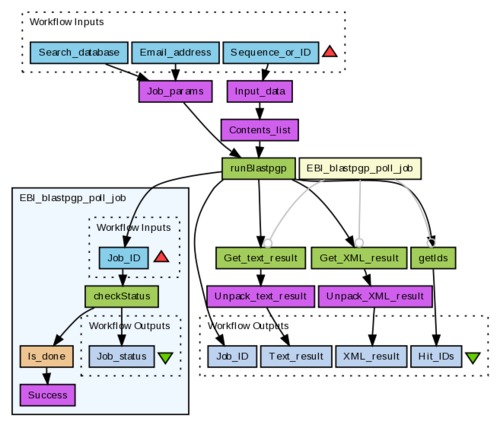 Description
Perform a PSI-BLAST iterative search using the EBI's WSBlastpgp service (see http://www.ebi.ac.uk/Tools/webservices/services/blastpgp). The query sequence, database to search and users e-mail address are inputs, the other parameters for the search (see Job_params) are allowed to default. In most cases you will probably want to adjust the expectation thresholds and the maximum number of iterations for your specific query sequence and the database being searched.
Download
Run
Run this Workflow in the Taverna Workbench...
Option 1:
Note: you need to have both the WHIP Launcher and the Taverna myExperiment/WHIP plugin installed on your machine for this to work. See here for information.
Option 2:
Copy and paste this link into File > 'Open workflow location...'
http://www.myexperiment.org/workflows/208/download?version=1
[ More Info
]
Workflow Components

Workflow Type

Original Uploader

Credits (1)
(People/Groups)

Attributions (0)
(Workflows/Files)
None

Tags (7)
Log in to add Tags

Shared with Groups (0)
None

Featured In Packs (1)
Log in to add to one of your Packs

Ratings (0)
Current:
0.0 / 5
(0 ratings)
Log in to rate and see breakdown of ratings

Statistics

Other workflows that use similar services
(0)
There are no workflows in myExperiment that use similar services to this Workflow.
Linked Data
Non-Information Resource URI: http://www.myexperiment.org/workflows/208
Alternative Formats