Multiple Protein Alignment Profiling(1)
Created: 2010-01-13 18:52:45 Last updated: 2010-11-17 14:13:20
This workflow may be downloaded and imported into the BioExtract Server at bioextract.org.
This workflow is designed to demonstrate the use of EMBOSS based Soaplab services from within the BioExtract Server. It begins by querying UniProt for "ops2_*". This input query string may be modified to meet the needs of the researcher. A sequences resulting in the query are simultaneously scanned for predicted transmembrane regions and subjected to a multiple alignment using emma. This alignment is then plotted to a set of PNG images and also used to build a profile using the prophecy and prophet tools.
Preview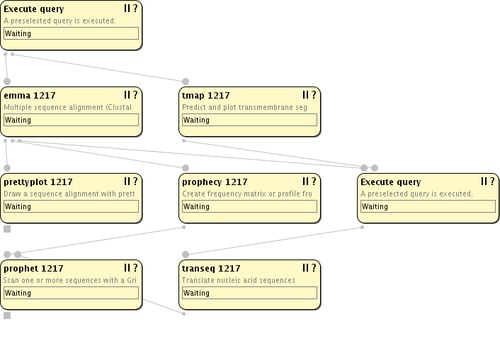 Run
Run this Workflow in the BioExtract Server...
Workflow Components
Not available

Workflow Type

Uploader

Version 1 (earliest) (of 4)

Credits (2)
(People/Groups)

Attributions (1)
(Workflows/Files)

Tags (7)
Log in to add Tags

Shared with Groups (0)
None

Featured In Packs (0)
None
Log in to add to one of your Packs

Statistics

Other workflows that use similar services
(0)
There are no workflows in myExperiment that use similar services to this Workflow.