Workflow Entry: Connect to twitter and analyze the key words
Created at: 26/07/10 @ 04:12:58 Last updated: 26/07/10 @ 04:23:35
Version 1

(of 1)
Title: Connect to twitter and analyze the key words
Type: RapidMiner
Preview
(Click on the image to get the full size)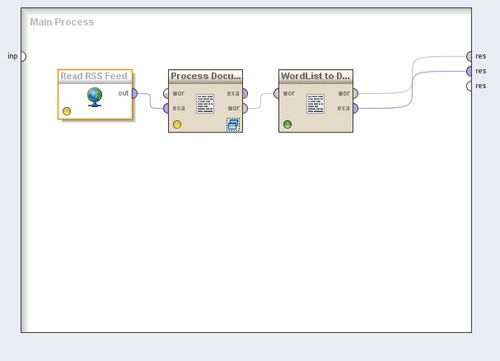 Description
Hi All,
This workflow connects RapidMiner to Twitter and downloads the timeline. It then creates a wordlist from the tweets and breaks them into key words that are mentioned in the tweets. You can then visualize the key words mentioned in the tweets.
This workflow can be further modified to review various key events that have been talked about in the twitterland.
Do let me know your feedback and feel free to ask me any questions that you may have. Shaily
web: http://advanced-analytics.blogspot.com/
Download
Run
Not available
Workflow Components

Workflow Type

Original Uploader

Tags (7)
Log in to add Tags

Shared with Groups (0)
None

Featured In Packs (0)
None
Log in to add to one of your Packs

Ratings (0)
Current:
0.0 / 5
(0 ratings)
Log in to rate and see breakdown of ratings

Statistics

Other workflows that use similar services
(0)
There are no workflows in myExperiment that use similar services to this Workflow.
Linked Data
Non-Information Resource URI: http://www.myexperiment.org/workflows/1465
Alternative Formats