Workflow Entry: Example of a conditional execution workflow
Created at: 05/03/08 @ 13:55:45 Last updated: 23/05/12 @ 11:18:50
Version 1

(of 1)
Title: Example of a conditional execution workflow
Type: Taverna 1
Preview
(Click on the image to get the full size)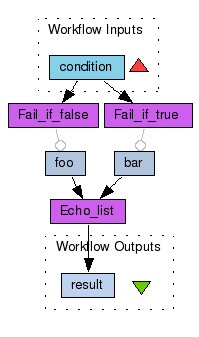 Description
If the input is true then the string 'foo' is emited, if false then 'bar'. Just a simple example to show how the monster works, so to speak.
Note that this type of workflow is not suitable for Taverna 2. An alternative mechanism is recommended.
Download
Run
Run this Workflow in the Taverna Workbench...
Option 1:
Copy and paste this link into File > 'Open workflow location...'
http://www.myexperiment.org/workflows/157/download?version=1
[ More Info
]
Workflow Components

Workflow Type

Original Uploader

Credits (1)
(People/Groups)

Attributions (0)
(Workflows/Files)
None

Tags (5)
Log in to add Tags

Shared with Groups (1)

Featured In Packs (1)
Log in to add to one of your Packs

Ratings (0)
Current:
0.0 / 5
(0 ratings)
Log in to rate and see breakdown of ratings

Attributed By (1)
(Workflows/Files)

Favourited By (1)

Statistics

Other workflows that use similar services
(0)
There are no workflows in myExperiment that use similar services to this Workflow.
Linked Data
Non-Information Resource URI: http://www.myexperiment.org/workflows/157
Alternative Formats